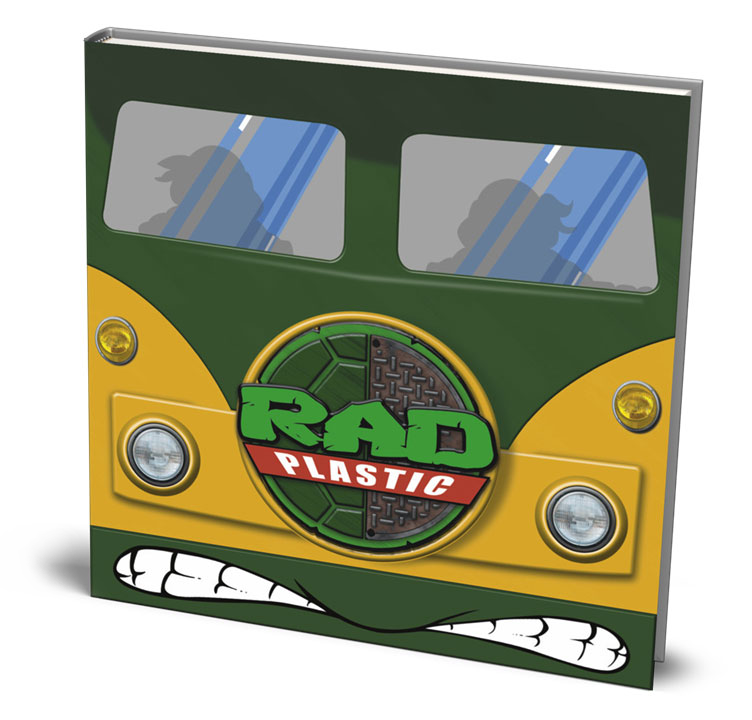 Tracing the entire history of the Teenage Mutant Ninja Turtles toy line from concept development in 1987 all the way to unreleased toys from 1999, Rad Plastic reveals the history of one of the most popular and iconic toy lines in history. You'll learn about how toys are made, from napkin sketch to store shelves, and every step in between.
Packed with interesting photos of every step of the process, Rad Plastic is not only a fantastic visual resource, but also an educational guide to the toy industry in the 90s. Explore the original artwork and sculpts that spawned the toys you love. Discover alternate variants and even unreleased figures that never made it to the store shelves. Join the original creation team as they explain how the line came to be. The Ninja Turtles were RAD in comics. RAD on the TV screen. And now for the first time RAD in a 400 page hardcover tome fit for the coffee table.
It's RAD PLASTIC!
Reader Reviews:
This book is INCREDIBLE! I'm having so much fun thumbing through this. The amount of info is incredible, and seeing all of these design sheets are seriously blowing my mind. Thank you so much for sharing all of this with the fans.
-Pixel Dan

I thought I was just getting a toy encyclopedia cataloging the playmates toyline. Instead, what I have is a trip through history, not only teaching in detail how the toy creation process worked for the original toyline, but also seeing an overwhelming amount of photos I, as an expert level vintage TMNT toy collector and dealer, have never seen - to the point of being literally stunned through nearly the entire experience.
-David Aranza

Got the book today and this thing is sick! Such a fantastic and detailed history of the toy line! I'm learning so much i did not know about the Turtles line. Great work.
-Dan Sieracki


My book arrived a few days ago and I literally was jumping for joy! This is outstanding and I can't thank you enough for the work and research you put into compiling and then organizing ALL of this information! BUY THIS BOOK, PEOPLE!
-Krissy Reed
For news and info on Rad Plastic, follow the Rad Plastic facebook page: www.facebook.com/radplastic

Now Available! Rad Plastic Merchandise! T-Shirts, stickers, hoodies, even pillows.
All with Rad Plastic imagery!
FOR MORE INFORMATION CONTACT US
Email: chris@radplastic.com
Or contact the author on Facebook
About the Author:
Chris Fawcett is a former toy industry engineer and avid toy collector. He has been designing and writing about toys for over 25 years. Some highlights include engineering on the original line of Rescue Heroes toys from Fisher Price and writing feature articles in the Star Wars Insider.


ISBN-10 ‏ : ‎ 057865816X
ISBN-13 ‏ : ‎ 978-0578658162